Newborn Great Pyrenees Puppies
Great Pyrenees Livestock Guardian Dogs
ChamBurn Farm is a multi-species farm with working Great Pyrenees livestock guardian dogs located in Oregon City, Oregon – just outside of the Portland metropolitan area. 
We are the proud breeders of newborn Great Pyrenees puppies. A majority of our parent dogs are AKC registered and all are great examples of the Great Pyrenees breed. Our livestock guard dogs protect chickens, sheep, alpacas, pigs and anything else they believe belongs to them. The pack receives daily hugs and affection – but when duty calls, they charge into action. 
Our newborn Great Pyrenees puppies are exposed to all the smells, sounds and activity that occurs daily on a working farm to awaken their senses and prepare them for real life circumstances and to help them grow into confident adults.
To learn more about our newborn Great Pyrenees puppies, contact us.
Contact us to be placed on our Waiting List for our Summer 2023 Litter!
Great Pyrenees Livestock Guardian Dogs
It should come as no surprise that we keep our Great Pyrenees dogs as livestock guardians. They're territorial by nature, which makes them ideal for this purpose.
Generally, their working roles are broken into two categories: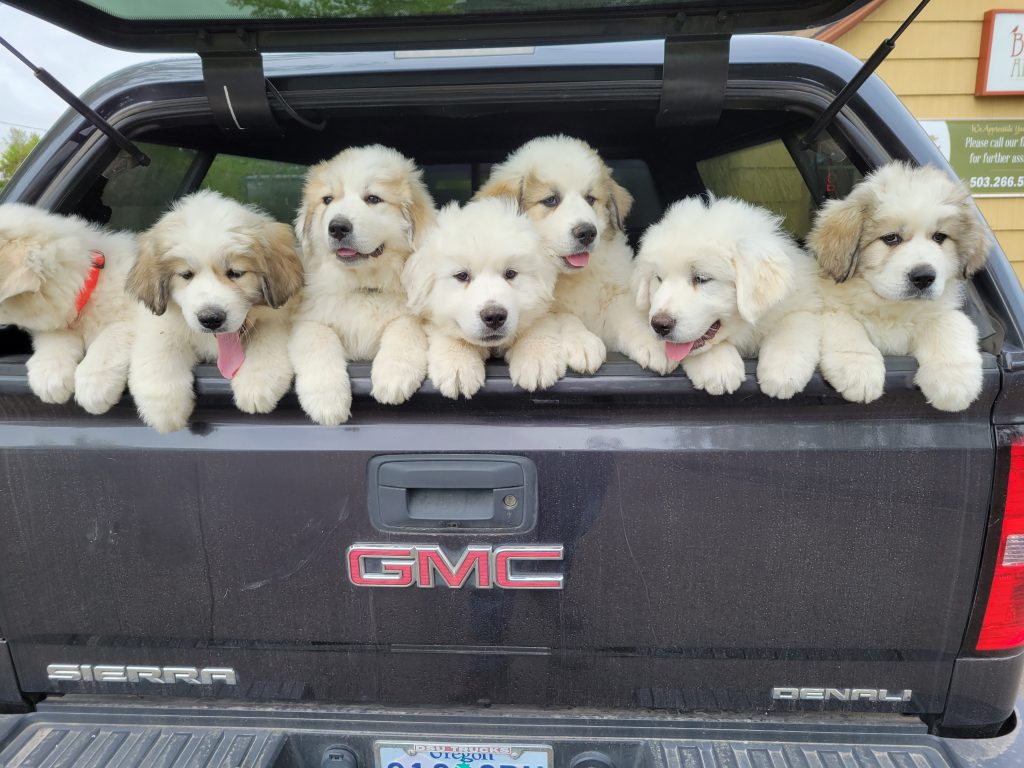 A ranch dog is part worker, part pet. It lives on the farm in close proximity to the farmhouse, guarding it and livestock kept nearby. The Great Pyrenees is perfect for this because, although territorial, they're also incredibly friendly towards people they know.
By their very nature, livestock guardian dogs aren't considered pets. They generally work away from the farmhouse and live full-time with the livestock they guard. In some cases, Great Pyrenees dogs have also been known to protect their neighbor's livestock too!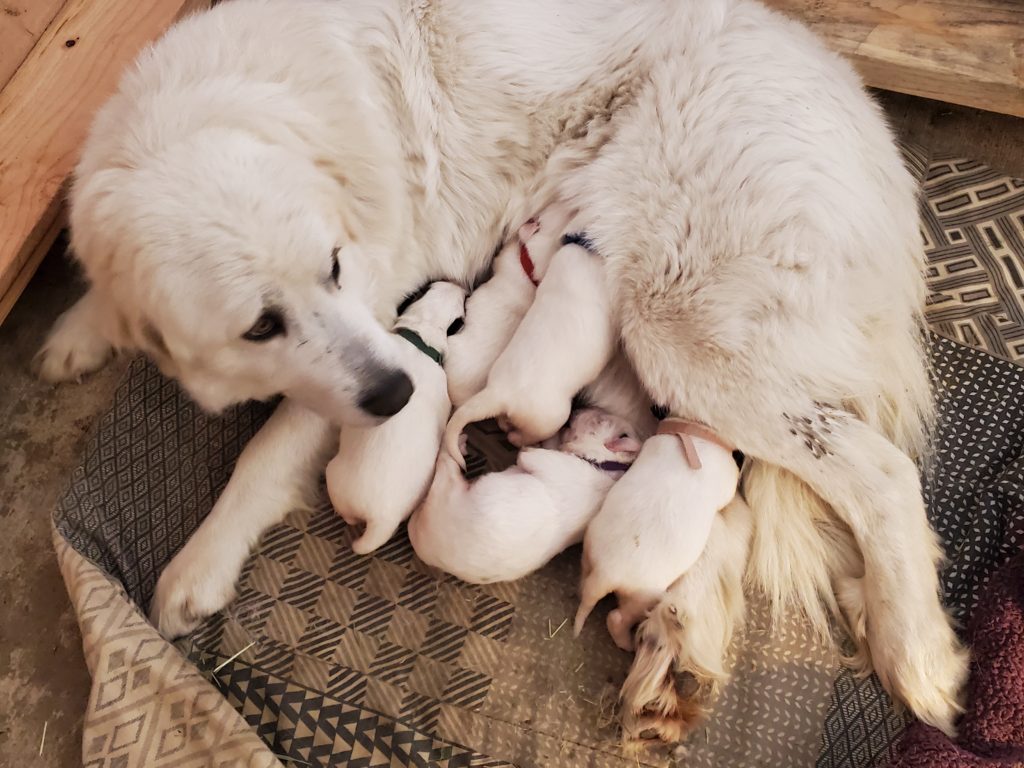 Great Pyrenees as family pets
This isn't to say that Great Pyrenees don't make great family pets. They do, but there are some considerations. Great Pyrenees dogs are typically friendly towards children and get on well with all members of the family. However, due to their territorial nature, they can be excessively loud as they have been bred to make noise in order to scare off potential threats. 
Thankfully, we work with a Canine Behavioral Specialist who uses an established Puppy Temperament Evaluation and Working Dog Evaluation to determine which of our newborn Great Pyrenees puppies are better suited as family pets, working dogs, or maybe a bit of both! 
Homing Newborn Great Pyrenees Puppies
As with other reputable breeders, we strive to find the best home for our newborn Great Pyrenees puppies. The puppies remain on our farm until they're around 10 weeks old, which gives us plenty of time to ensure they are well developed and ready for new homes. 
In those ten weeks, we prepare our puppies for their future by:
We're diligent puppy breeders, which is why all this is necessary. ChamBurn Farm takes pride in the puppies we breed and ensure they go to homes best suited for their temperament and needs.
Interested in our newborn Great Pyrenees puppies?
Get in touch so we can discuss next steps and notify you of our next litter.